Atelier 21 KSA worked with AlMoosa Group, for their unique project: AlMoosa College health and science, in AlAhsaa - Saudi Arabia, AlMoosa College of Health Science is the first not-for-profit private college in the eastern region. The college opened its doors in September 2020.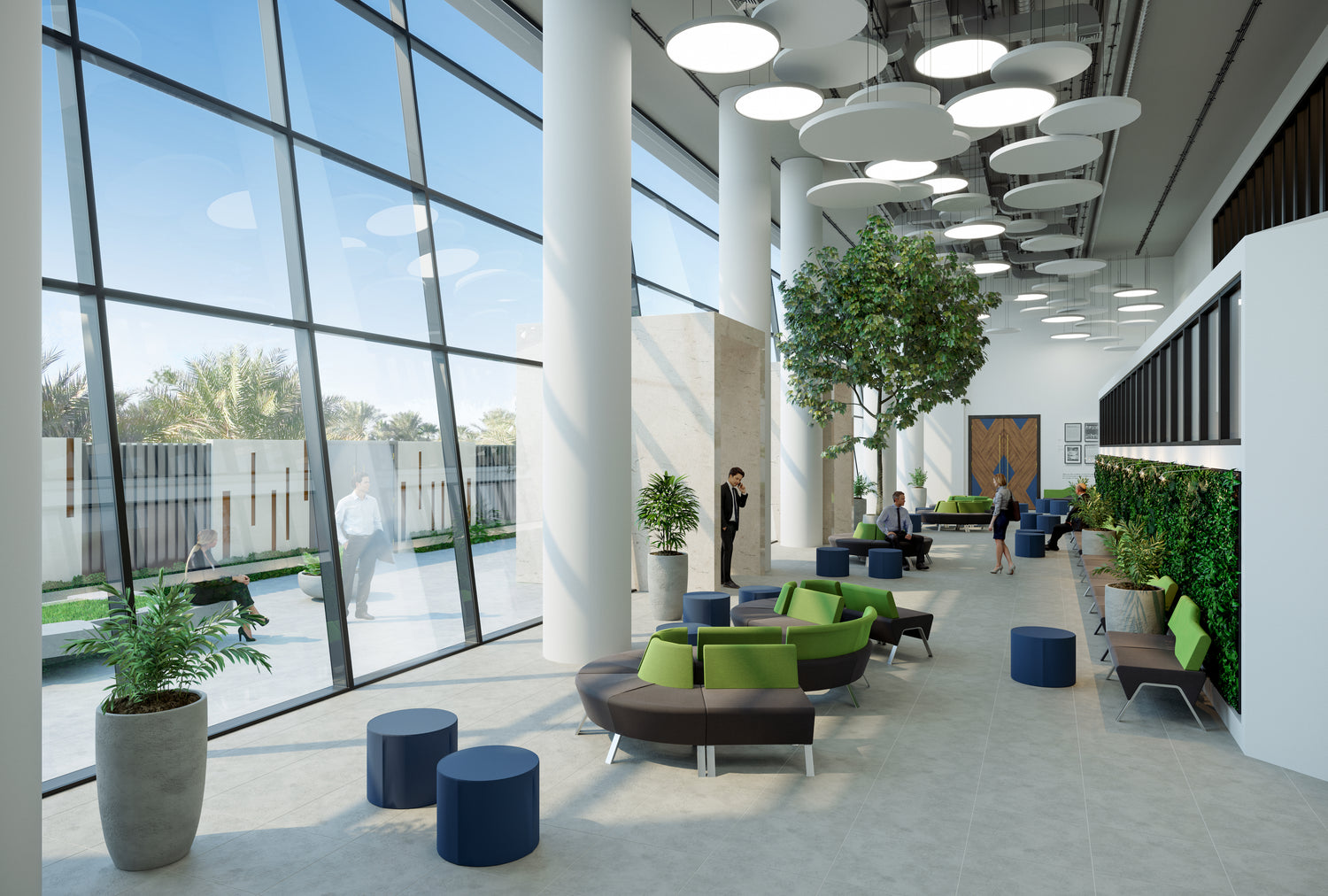 The reception area a meticulously designed central hub, seamlessly combining functionality and dynamism.
Marked by dynamic soft seating for the waiting area and a central reception desk serving the main entry point, it offers a welcoming waiting area and serves as a gateway to divisions and key spaces.
From curated exhibits in the gallery area to the main auditorium hall, the connectivity is integral. The inclusion of a compact service Cafe kiosk adds convenience, making the reception area not only an entry point but a dynamic and practical focal point for diverse activities.
In addressing the acoustic challenges posed by the double-height ceiling and glass façade in the main lobby area, Atelier 21 KSA implemented a solution. Heradesign rafts, seamlessly integrated with ceiling round pendant lights, were strategically introduced to mitigate noise reflection from the surfaces and void.
The project's wayfinding system was scrupulously crafted to blend with the overall design of the college. Each corridor on the various floors was assigned a distinct colour, strategically chosen to align with the specific functions of the corresponding areas within the floor space.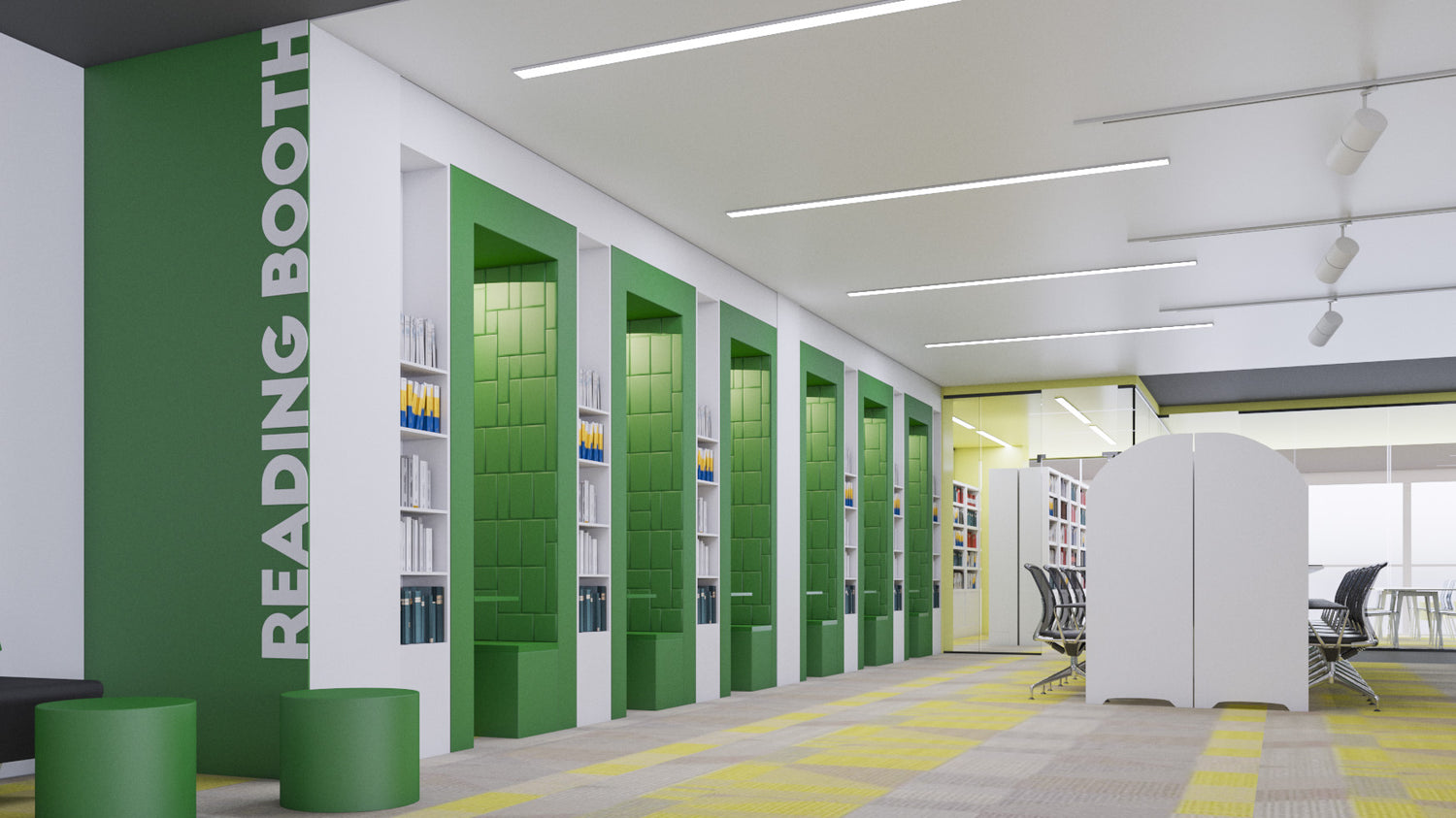 The design of individual booths within the library reflects a thoughtful approach to creating an optimal study environment. Each booth is crafted to offer a secluded and focused space for individuals, promoting concentration and privacy amidst the bustling atmosphere of the library. The ergonomics and layout of these booths are carefully considered to cater to diverse study preferences, providing a comfortable and personalized setting for students and researchers. Whether for quiet reading, collaborative projects, or solitary study sessions, the library's individual booths are tailored to enhance the overall learning experience, offering a harmonious blend of functionality and aesthetic appeal.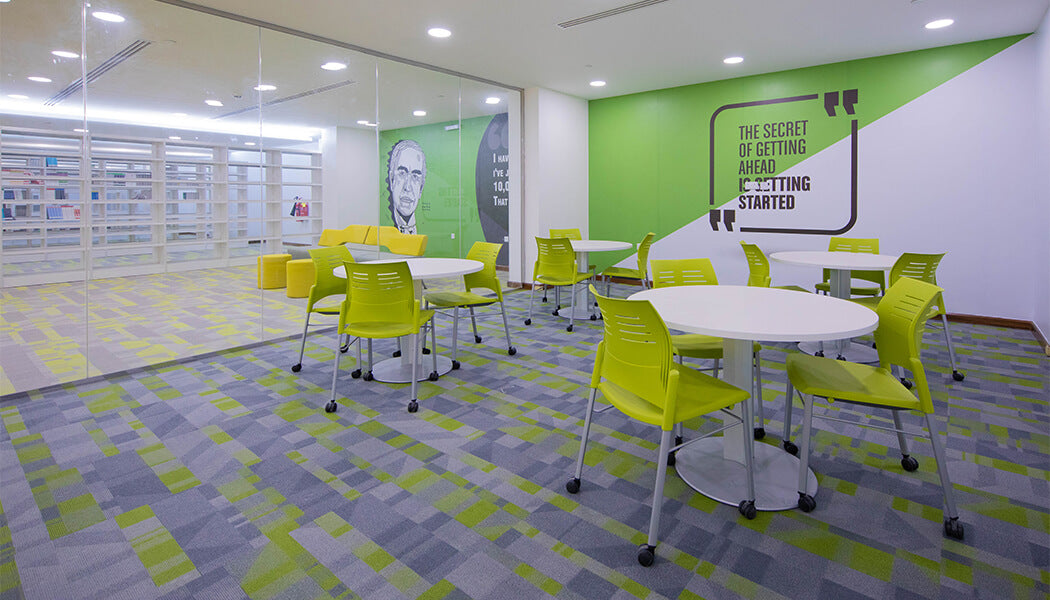 The collaboration between Atelier 21 and AlMoosa College for Health and Science has been marked by a distinctive interior design service offered to the AlMoosa Group. The careful selection of materials and the translation of design concepts into final working drawings have seamlessly manifested in the beauty of the ongoing construction works.